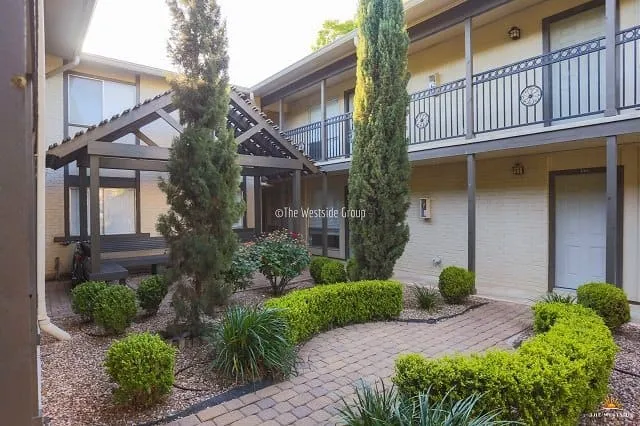 Pre-leasing for Fall 2023
Lock in this rate and reserve early. It may be subject to change without notice.
Studio Apartment Living At West Campus Near UT Austin
Are you searching for West Campus apartments in Austin near a school that is easy on students' budgets to live alone or share with a significant other?  The studio apartments at West Campus Flats will fit that need.  Enjoy the convenience and freedom of having your place without the hassle of a roommate.  Cook in your kitchen and invite friends for dinner.  Even as a studio, the units are roomy.  It has a walk-in closet for extra storage.  The monthly rent includes gas and trash utilities and one parking permit per unit.
West Campus Flats is a 38-unit apartment building in Austin, Texas, situated on a tree-shaded quiet street in the neighborhood of The University of Texas at Austin.  This area is populated mainly by students, UT staff, and other professionals who desire to live in west campus apartments in Austin and its vicinity.  Walkability to the campus is another consideration for students who avoid steep parking rules and violations within the campus jurisdiction.  Martin Luther King Boulevard, a major street serving the area, is one block south, providing easy access to shopping, schools, and the central business area.  This major street serves fellow Austinites, offering shopping, schools, parks, and outdoor activities.  You'll find Whole Foods, Trader Joe's, and REI here.  And nearby Guadalupe Street is the Austin Market and Mercantile, housing both Target and Starbucks.
The area, known as West Campus, boasts an active lifestyle with a youthful vibe.  Since living in West University apartments in Austin is well-known for students, it is also home to others due to its accessibility to principal offices, parks, and quick exit to major thoroughfares.  Single studio living near the campus is an alternative to sharing an apartment with a group of other students or in the dormitory.  Experience the freedom of having your first studio apartment in the Austin West Campus area minus the cost.
1 PARKING PERMIT included per unit.

GAS & TRASH bills are paid.
Emergency Numbers and Weblinks
Bus Service Schedules & Routes
POSTAL / SHIPPING SERVICES
Distance To Popular Spots