Clarskville | West Campus | North University
Looking for a downtown Austin apartment for rent, with easy access to the center-of-them-all kind of community? The city is known as The Live Music Capital of the World and the slogan, Keep Austin Weird.
Clarksville is a residential community near downtown on the west side is an area that has a lot of historic and modern homes. It is located on the west of Lamar Blvd. along 6th Street and has something for everyone. Popular annual music festivals like Austin City Limits and South By Southwest are a few of the city's events.
As part of the historic Old West Austin, this locale is a community of distinctive homes, apartments, galleries, and restaurants. Often referred to as Austin West End. The area stretches from West Sixth Street on the south border to Enfield Road on the north. North Lamar Boulevard and Mopac Expressway, defining the east and west.
Residents love the walkable distance to nearby shops and hangouts. The Market, Warehouse, and Entertainment districts are all easily accessible. The historic Congress Avenue is within reach, where the Texas Capitol Building is majestically-located. Certainly, the Austinite culture of being outdoors, especially during warmer climates, is common. Local favorite things to do are visits to Lady Bird Lake, Zilker Park, and Barton Springs Pool.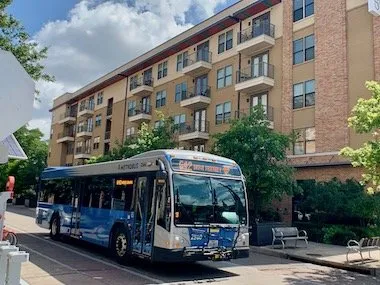 Right in the heart of the University's action, West Campus is the definitive neighborhood destination for students, teachers, and the young at heart searching for off-campus housing property on the map.
Various shared and independent apartments ranging from studio 1, one bedroom to 2 bedrooms floor plans are available. With an easy access to the main arteries for Austin's buses.  Moreover, outdoor spots like the historic Pease Park, bike trails, and museums for all ages.  There is undoubtedly something for everyone in this spot. Studies with data show that students living near the school are more productive, happier, and can concentrate more on their school work.
Sandwiched between 29th and MLK to the north and south and Guadalupe and Lamar to the east and West, it's easy to say that West Campus is truly in the heart of UT Austin, TX. If you're a student, don't forget to be within a short walk of numerous coffee shops, libraries, and the campus. Likewise, the neighborhood is on the north edge of downtown on MLK Blvd.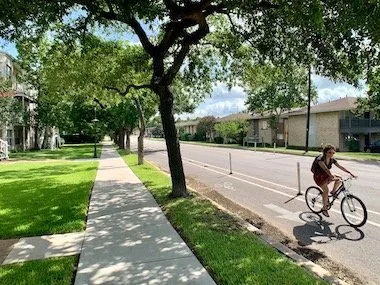 North University and Hyde Park are the graduate student's home, the professor's residence, and the new family's place.  Hyde Park does it all.  Located near the city center, yet it still maintains a small-town vibe.

North University can be challenging to define.  However, it's still a prominent area within the campus.  Hyde Park, Austin, TX, is a residential community known as a nearby historic city in Austin, commonly known as North Campus on the map going from the end of the UT Austin campus to the north until 38th street.  What matters is that Hyde Park and North Campus are the quieter response to West Campus.  A location with less traffic, more dog parks, nice coffee houses, and tree-lined streets that make it beautiful greenery.

North Campus is where the student, worker, or anyone else goes to focus.  Grad students' popular choice is a studio living space.
Apartment rentals in Austin have been going up lately, with an average rent of $1,826. Consequently, the influx of people moving to Austin, rising costs, and property taxes make living downtown expensive. Our apartments remain affordable because they are older properties owned and maintained by a local Austin company. We save on corporate overhead fees. All that money goes to keeping our apartments beautiful, our tenants happy, and our rates as low as possible.
Enjoy living in desirable neighborhoods in Austin near downtown, where all the action, outdoor, and cultural activities abound.  These apartments for rent in Austin, TX, are strategically located.  Additionally, access to highways, shopping, dining, parks, entertainment, schools, and hospitals is easy.
Are you a student or just looking for affordable apartments near downtown Austin? It's time to ditch the dorms. Who wants to share a bathroom with three or more other occupants? We offer spacious student apartments—an economical option for that first apartment experience for the undergrad or graduate students' sleep and study.
These studio apartments are in the West and North Campus neighborhood. It's a setting where the non-stop, never-sleeping life of the student population is present. Unlike in the North Campus/University neighborhood, students enjoy more privacy and quiet. Our options in these areas run the whole spectrum from cozy studios to spacious one and 2-bedrooms that can be with another person.
The Westside Group Apartment Rentals
The Westside Group serves 11 multi-family apartment rentals near the UT Austin campus and the west downtown vicinity.  Owned and managed by the same Austinite since 1994 and is listed on information directories and online maps.  To give our residents the best value always in mind, the company has redefined what it means to live in good neighborhoods possible at the best price. We pride ourselves in having tenants that stay with us for as long as they're in Austin and are always happy with their apartments. If you are looking for an apartment to rent and on budget, please contact or visit the availability information listings section on this website. Our unit floor plans range from studio to 1 and 2 bedrooms.
Resident Reviews
What our residents say...